Tanay Mondial 2020 Things to Do in Moscow for 2-3 Days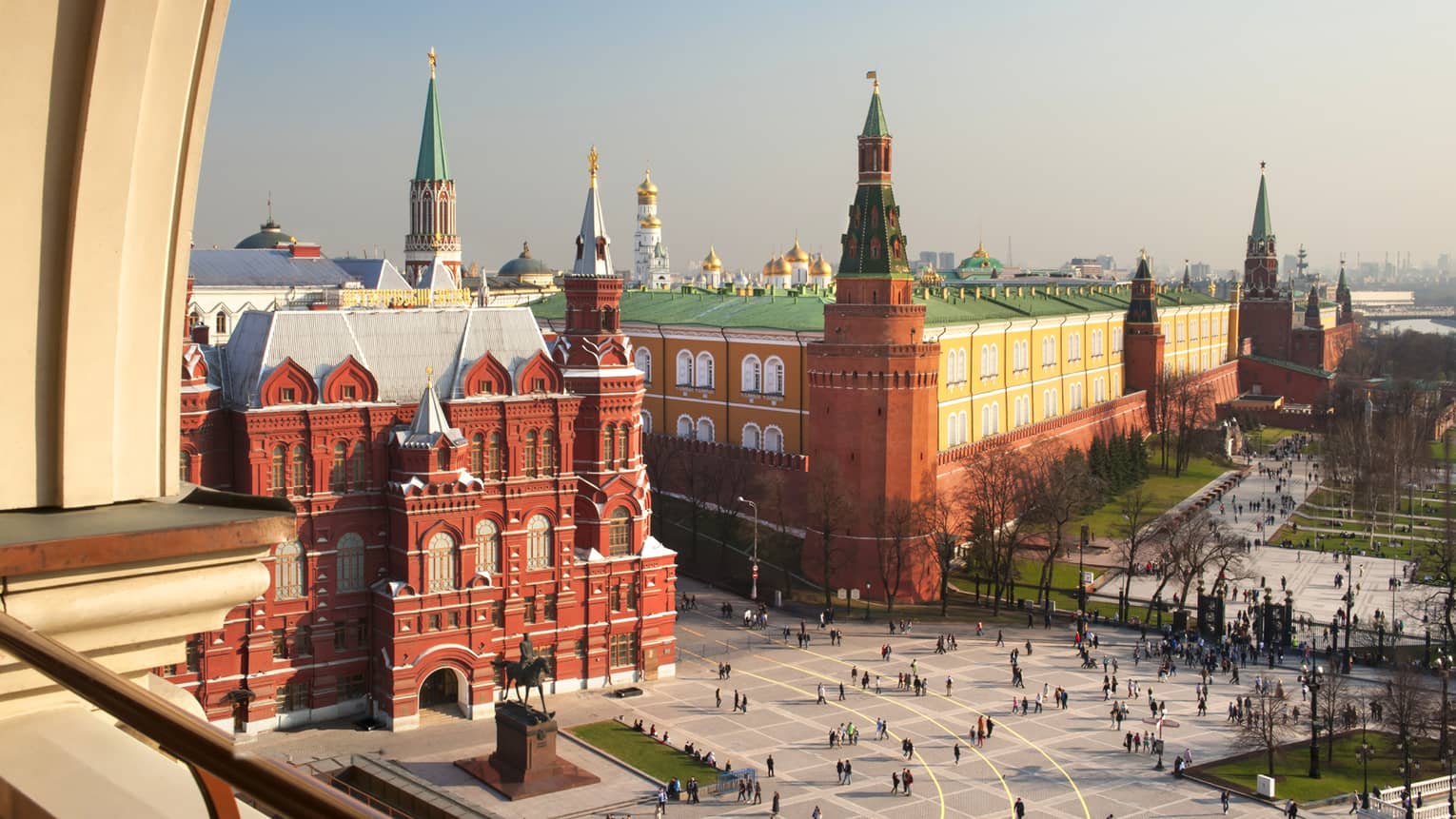 Now that you have your visa in hand, it's time to decide what to do for your first, 2- or 3-day visit to Moscow, the best city in Russia in terms of things to do. This quick tourist guide has some recommendations for the members of the national skydiving teams who don't know where to start, but want to spend 2 to 4 days in Moscow before or after the Tanay Mondial 2020.
First things first
Finding a place to stay
My recommendation: stay somewhere near Red Square. There is a huge number of hotels along or near Tverskaya Street, the Moscow equivalent to NYC's Fifth Avenue, for a wide range of budgets. I haven't stayed in a hotel in Moscow in over 10 years, so my suggestion is to go through a site like Booking.com and find a hotel that fits your budget. You want to be in that area because there are so many things to do, all within walking distance. That area also has a large number of metro stations, and several metro lines cross through there, so it's easy to get around to other parts of the city without breaking the bank while avoiding Moscow's perennially nasty traffic.
I fell in love with this area, and Tverskaya Street in particular, during my first long stay in Moscow in 1995. I made sure that the two of the offices where I worked, my business partners, and my residence are all in the area because it's so inspiring, rich, convenient, and fun.
My personal suggestion...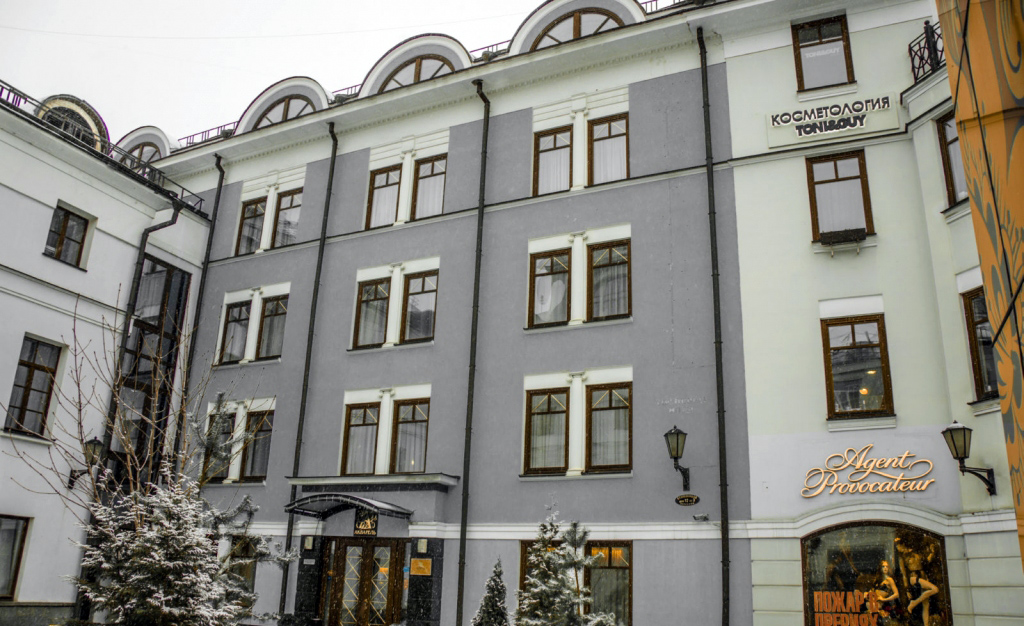 Stay at Hotel Akvarel, on Stolyeshnikov Lane. It's a nice boutique hotel at a reasonable price. Having checked recently, $150/night for a luxury room in this cozy hotel is a steal; a similar room in Soho, London would go for upward of $750/night. The rooms are large and modern, the Internet doesn't suck, the service is great, and the location is the best in the city. The Marriott at the other end of the street is 3x more expensive and nowhere near as cool. Stolyeshnikov Lane is Moscow's equivalent to Rodeo Drive, lined on both sides of the street by such stores as Louis Vuitton, Cartier, Dior, Agent Provocateur, etc. and a super nice walk. It's not unusual to see fashion photo shoots happening on this lane, as you walk to/from the hotel.
Cash
How much cash do you carry every day? Plan on carrying the same, equivalent amount of cash in rubles, for incidentals. Don't bother with exchange bureaus. They take too long, are more bureaucratic, and have a less advantageous exchange rate. The ATMs for every major bank (Sverbank/Сбербанк, VTB/ВТБ, etc.) all work just fine with American and European cards.
Having said that… US dollars and euros are always handy. I keep about $100 and €100 in my wallet at all times, just in case there's no ATM around and I need cash. You'll need your passport to convert to rubles at an exchange bureau (обмен балуют).
Power
Russian wall outlets and appliances run on 220 VAC, 50 Hz, and use the same round prongs plug used in most of Europe. I've been going back and forth since 1995, and all I've ever needed were the cheap US to EU power adapters. My MacBook, iPad, iPhone, WiFi hot spot, and my 60 watt USB charger (for skydiving gear) all automagically convert 110 VAC to 220 VAC, as long as you have the adapter.
They sell adapters in pretty much any electronics store in the Red Square/Tverskaya/Okhotnyi Ryad/etc. area so don't panic if you forget to buy them. The place is littered with mobile gadgets, computer stores, etc. So no need to stress over finding these.
Things to do
There are so many things to do that this isn't an exhaustive list by any stretch. I'll cover the obvious ones, and will leave things like night life to you when you're there. Nightlife is like in any other cosmopolitan city: faddish. What I recommend as the super cool place today will be the boring dive tomorrow. Therefore, I'll focus only on the cultural, interesting, and beautiful things to experience. There'll be enough here to keep you busy for at least two days, all within walking distance of Tverskaya.
Red Square
2 blocks away from Red Square, where you can see one side of the Kremlin, Lenin's tomb, St. Basil's Cathedral, GUM, and the State Historical Museum. I don't think Red Square requires a lot of explanation beyond - go there.
My personal suggestion...
Walk around the square, take photos, go from one end to the other. I'd skip Lenin's mausoleum (unless you're in the mood to debate if that's really his embalmed body or a wax figure later in the day) and definitely avoid going inside St. Basil's Cathedral. As beautiful and breathtaking as it is on the outside, it's an underwhelming disappointment inside.
The Kremlin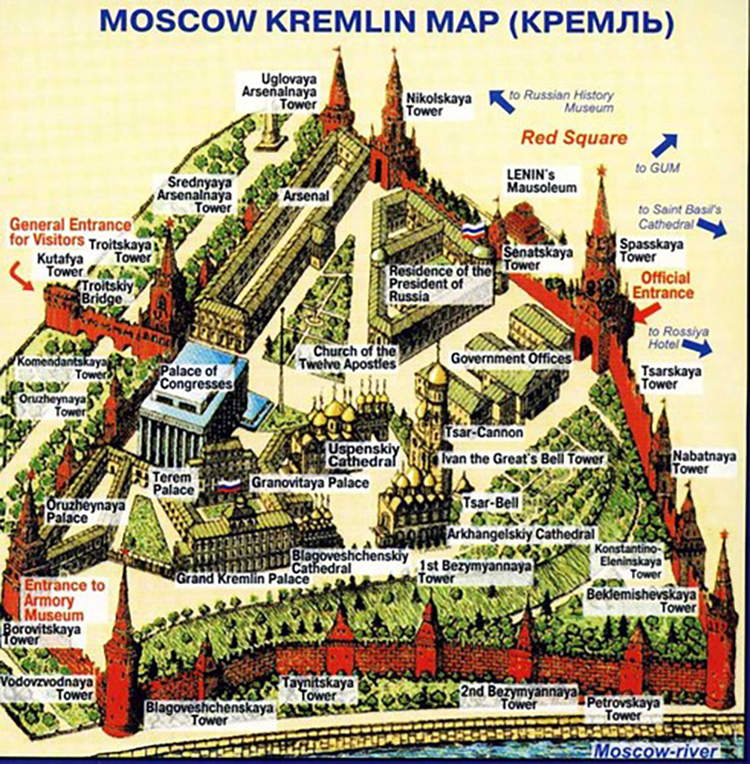 Kremlin means "Walled Fortress City" and there are several throughout Russia (check out the one in Kazan' or the one in Ryazan' at some point. There's even a little one in Russia's most iconic historical city, Suzdal). The Kremlin contains a large number of interesting places to visit and walking through it is an adventure in itself. Easy to spend half a day just walking through and around the Kremlin. Things you'll see:
Upspyenskiy Cathedral
Palace of Congress
Armory Chamber Museum
The biggest cannon you've ever seen
Ivan the Great's Bell Tower
The Palace of Congress hosts ballet shows during the summer, and tickets are easier to obtain than for the Bolshoi Ballet, with the same quality of performances.
My personal suggestion...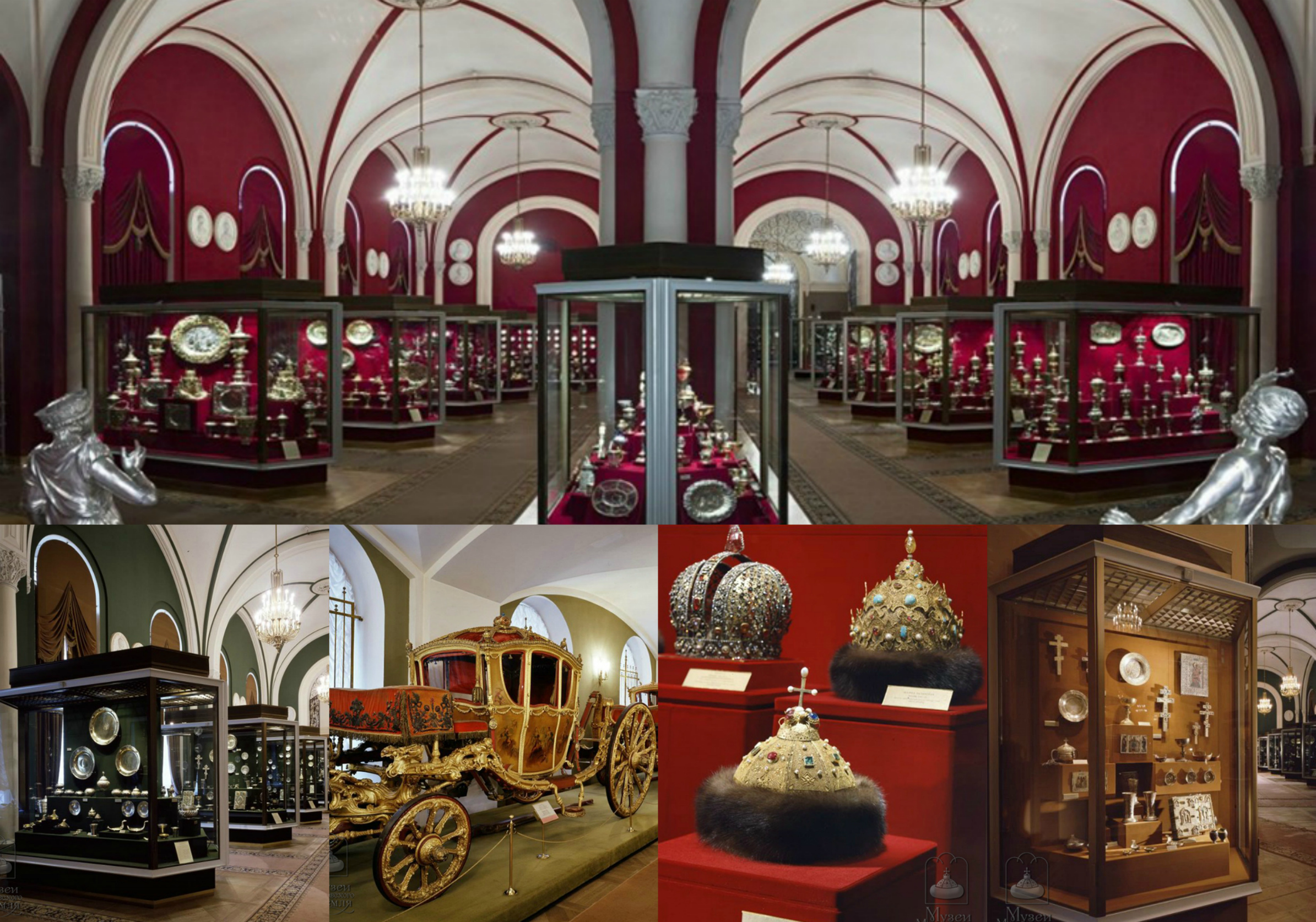 Enter the Kremlin, walk around, take in the place, stop here and there to rest, walk some more. Skip the cathedrals -- they're not that interesting and there are more interesting things to see. When you're done, go straight to the Armory Chamber Museum and go through it. Not too large, and full of interesting surprises. Many relics from Peter the Great can be admired or studied at this museum.
Places to eat - Karmergerskyi Lane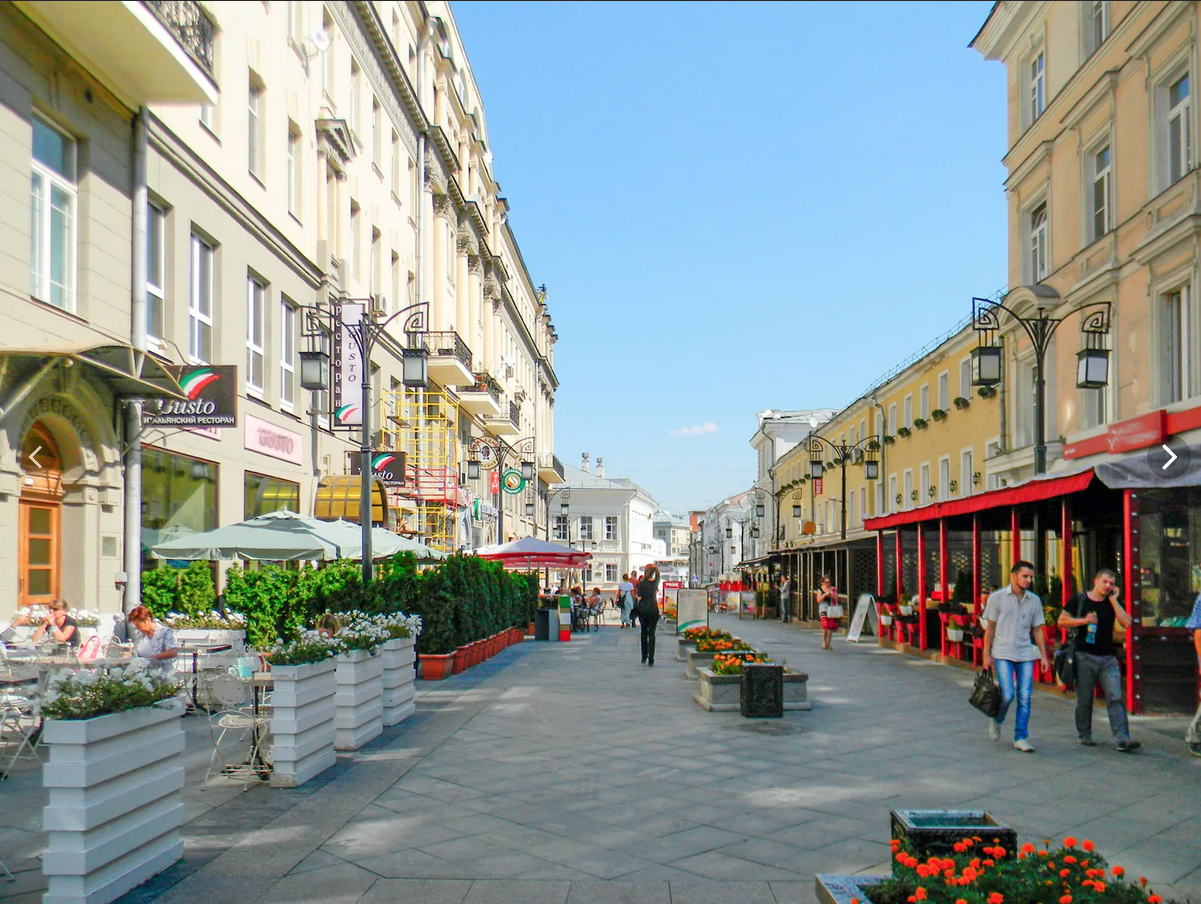 There are a myriad of restaurants in the area, ranging from bad to good, cheap to expensive, and everything in between. If you aren't sure about what you want, or feel like checking out several places before deciding, walk over to Kamergerskiy Lane; it's one long block away from the entrance to Red Square and the State History Museum, on the right hand side of Tverskaya Street. There are 20+ restaurants there for every budget and taste, plus if you feel like going to the theatre (and you speak Russian), you can attend a performance at the historical Chekov Theater. Otherwise, it's a great place for people watching, lined with outdoor tables in the summer, and a large variety of cuisines.
There's a Starbucks halfway down the lane, if you need your all-American caffeine fix.
If you are in a fancy meal mood, eat at the Chekhov Theatre restaurant. Posh, a bit expensive, but worth the experience (great for a date!). Everything is decorated in white - it feels like you're in a fairy tale location.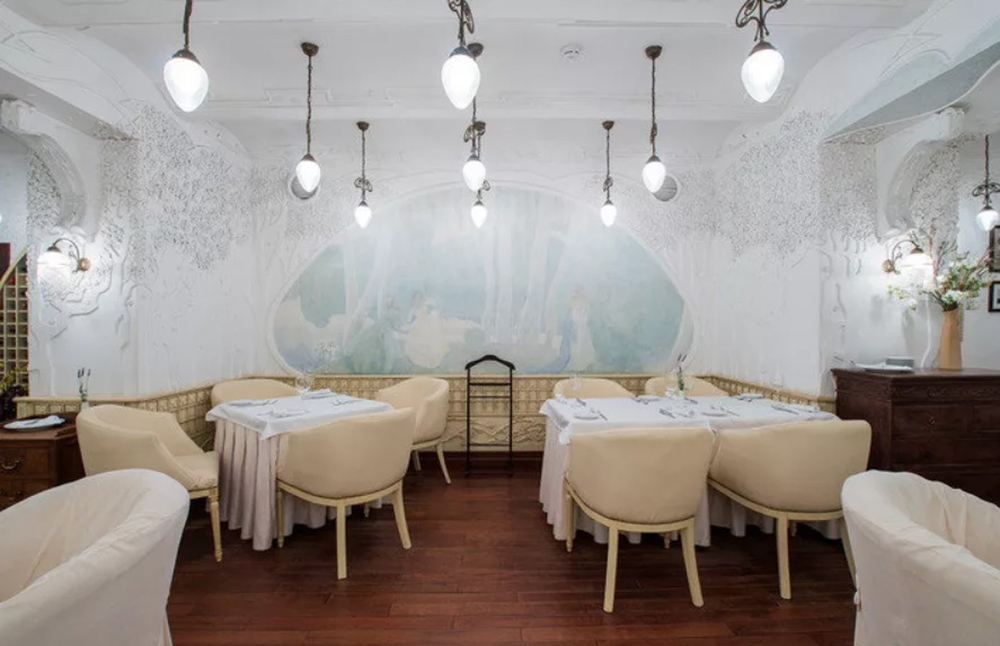 My personal suggestion...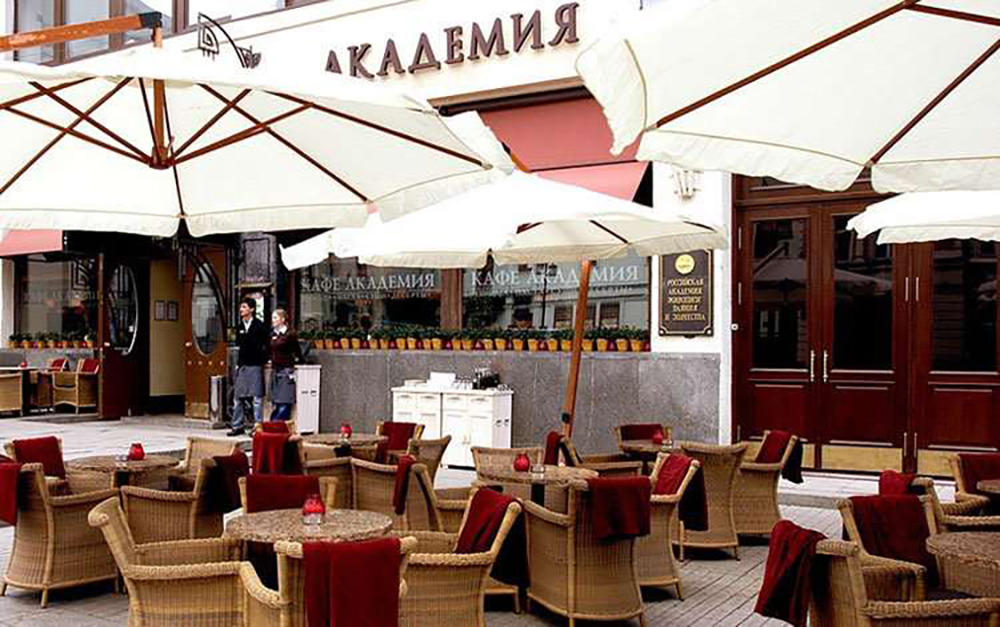 Pizzeriya Akademiya, at the corner of Kamergerskyi and Tverskaya. It's not too pricey, the food is good, they have the best outdoor seating area, the service is nice, and they have the best sugar and butter cookies on that side of the Urals. The menu is a weird combination of California style and European specialties (they make a great rib eye steak, and a killer white mushroom soup). I'm biased because I took my wife there for our first date. Akademiya is downstairs from my flat and two blocks away from her work (at Louis Vuitton on Stolyeshnikov; yeah, it was meant to be).
Museums
Lots and lots of museums. See the Kremlin section for details on a great one to see there. Now, if you walk along Tverskaya, you can also hit one of the most interesting ones: the Central Museum of Modern Russian History - this one rocks; from the early 1900s until today. I won't list all the options because there are way too many. If you only see one museum, make it this one. Totally worth it.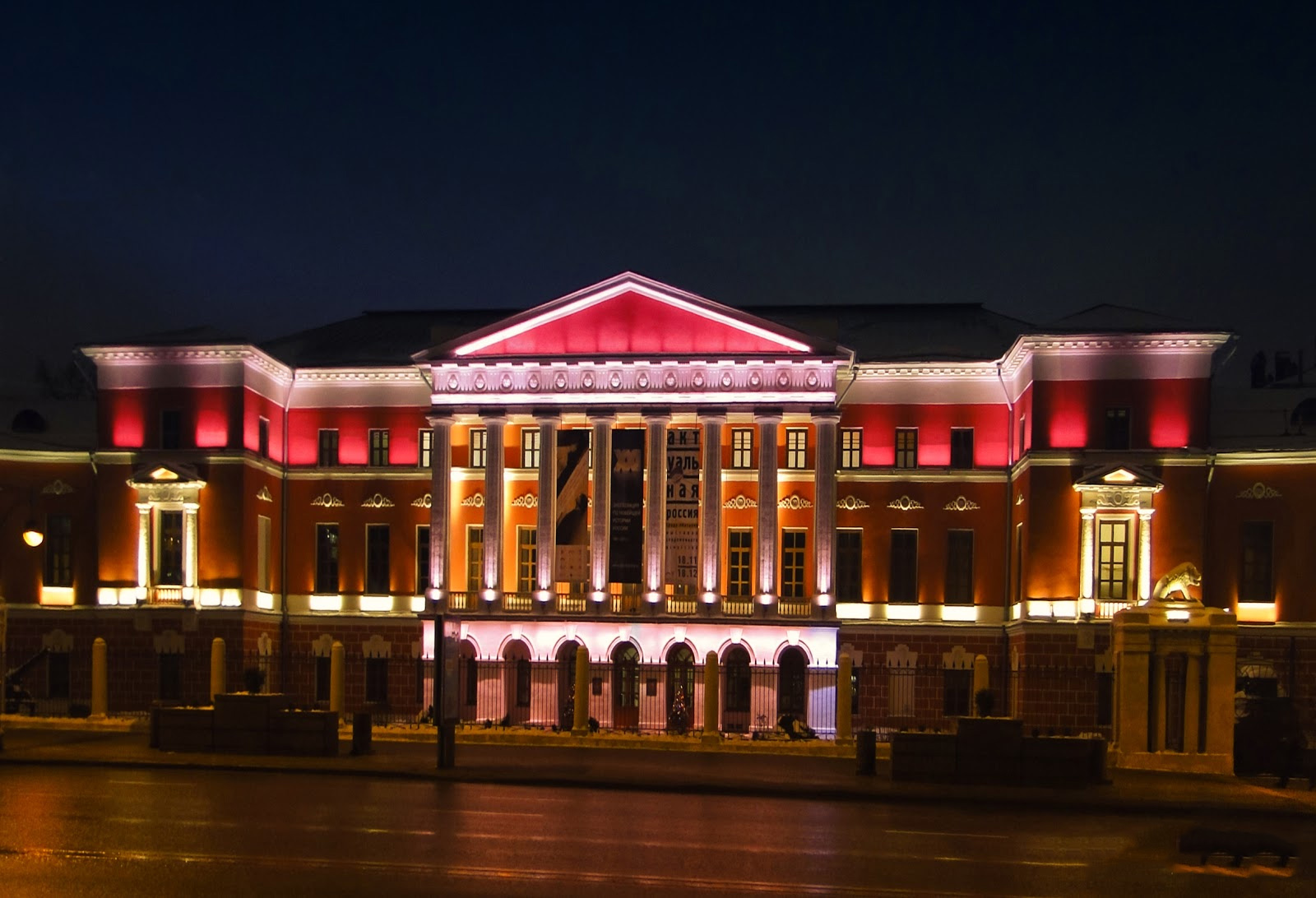 Now, you may be in the mood for art -- then you must go to the Tretyakov Gallery. That's a bit further away and a much longer walk, but 100% worth it. This might be a good opportunity for you to learn how to use the metro, which you can catch from 5 different stations within walking distance of all the things I described here. Anyway, a quick view inside the gallery:
Ballet
The Bolshoi is both a museum and a performance theater for ballet. It's also within walking distance, a great place to vist.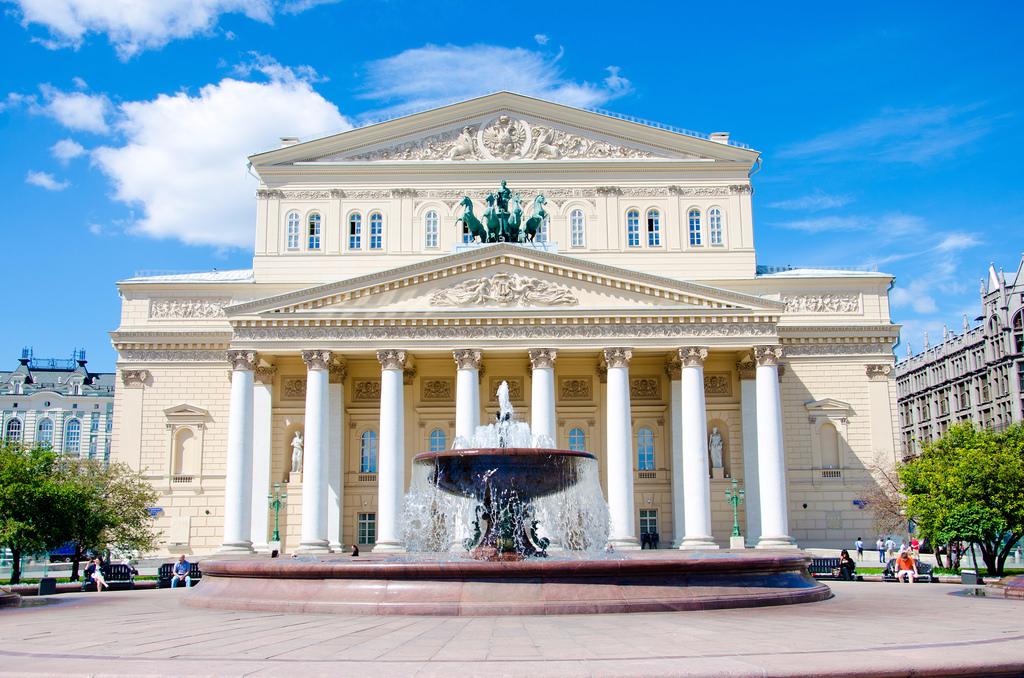 Finding tickets to the ballet at the Bolshoi is hard and some times expensive. Your best shot is to go to the ticketing booths spread throughout the city (they look like... ticketing booths), and try to get your tickets there. The clerks at several ticketing booths in this area speak English or German, should be easier to get tickets than through the box office. Don't worry about the performance -- whatever they're playing the night you visit, will be worth it.
Shopping
Buyer beware: shopping in Moscow is super expensive. Especially in this area. But if you want the trendiest fashions, it'll be cheaper than flying to Paris, London, or Tokyo to find the best. The super posh stores are all on Stolyeshnikov, but they all have branches at these complexes:
GUM (ГУМ)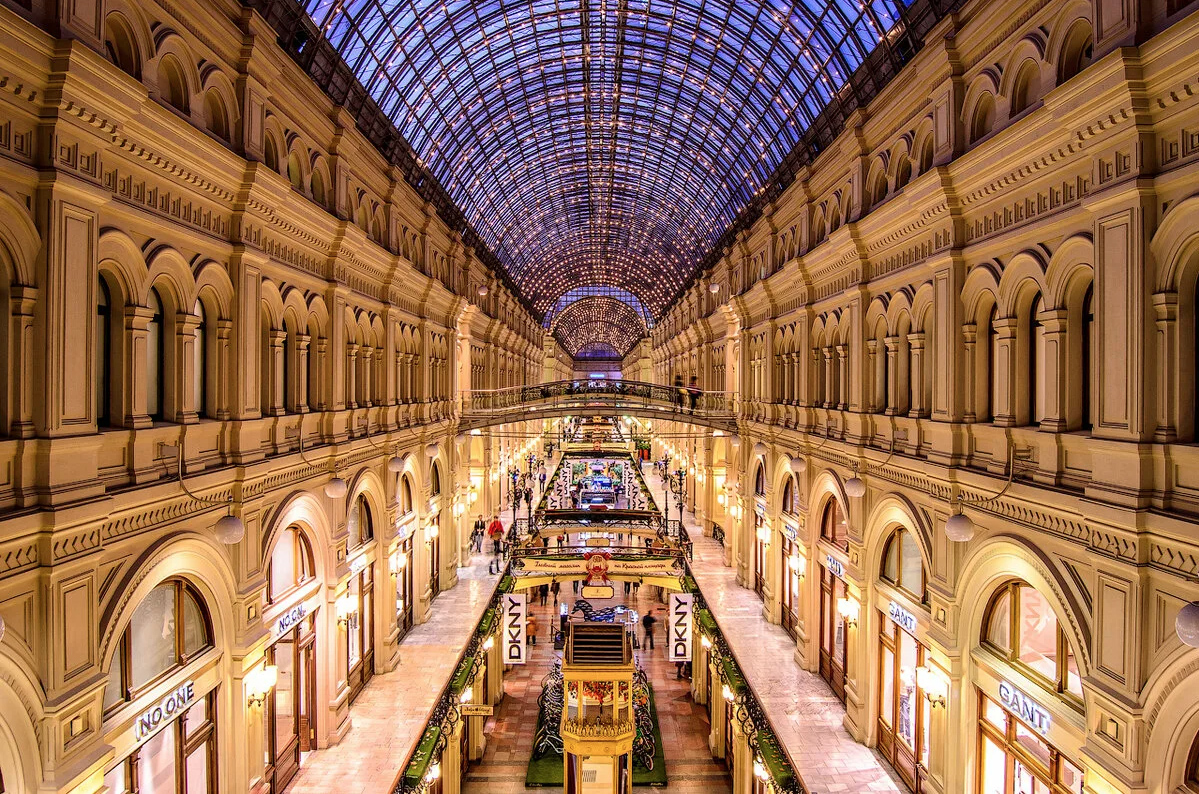 GUM, or Government Universal Store, is a relic of Soviet times revitalized by the best Capitalism has to offer. Louis Vuitton, Bosco, Cartier, etc. all have stores within GUM, on Red Square. There are also more reasonably priced stores within the complex, and a visit to GUM is worth just to gawk and window shop, because the building itself feels like visiting a museum.
TsUM (ЦУМ)
Fashion on a more sensible budget - visit TsUM, or Central Universal Store, a short walk from Tverskaya. TsUM is a department store that's a cross between Macy's, Bloomingdales, and Saks Fifth Avenue. Clothes and general merchandise prices have a much wider spread, and the store is modern and chic, plus it's in a nice area surrounded by trendy cafes and bars.
My personal suggestion...
Don't buy things in Moscow unless they're unique and you can't find the same thing at home. The best way to approach shopping in Moscow is by thinking that you can never pay more, and you can always get better elsewhere, especially if you have the ability to shop in another country (this doesn't apply to people from Switzerland).
Souvenirs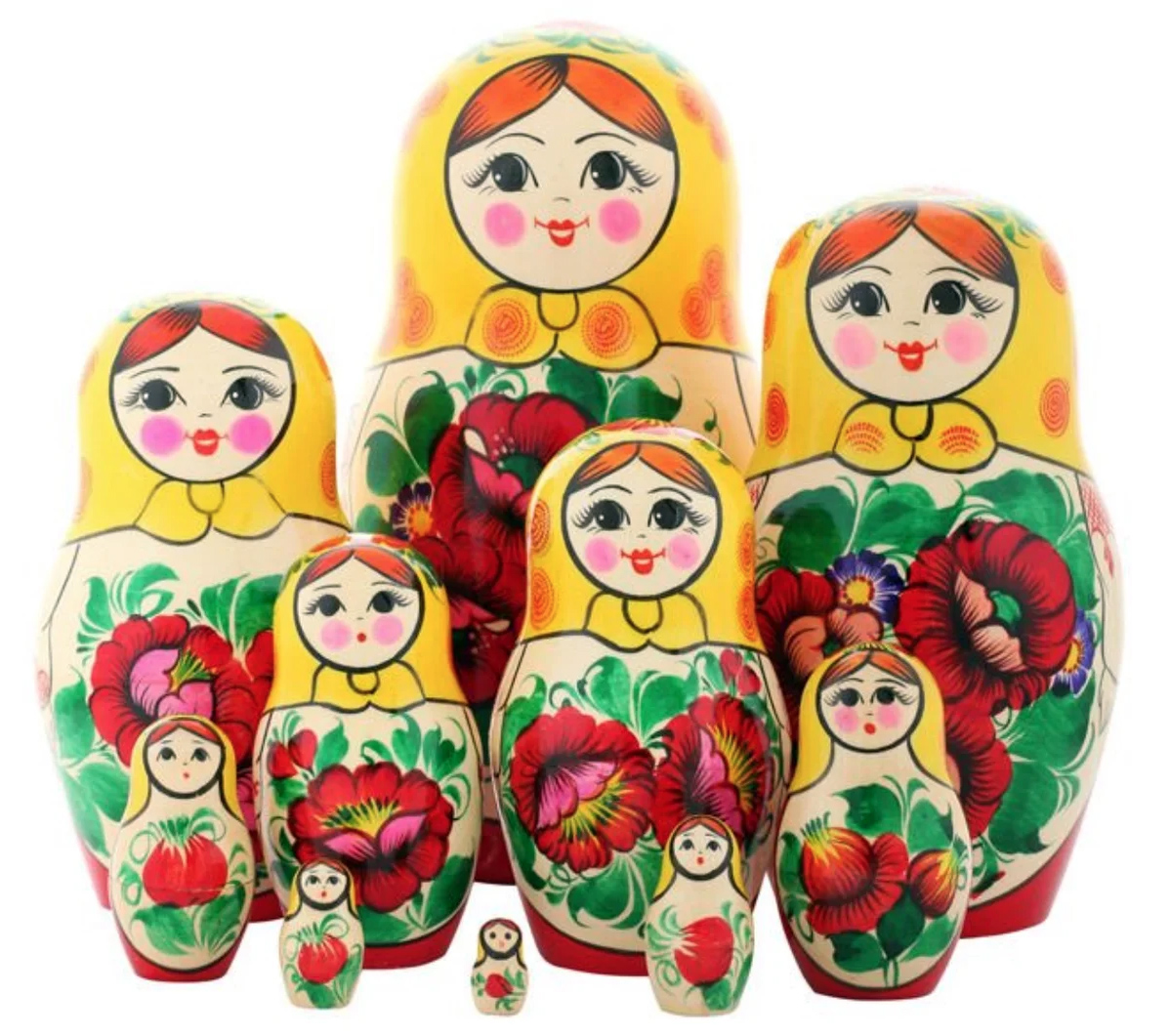 You will find a million places to buy souvenirs. Haggle as much as you feel comfortable with haggling, and keep in mind that, the further way you walk from Red Square/Teatralnaya metro, the cheaper your souvenirs will be. If you feel like taking a short metro ride, hop on a train to the Arbat and spend a couple of hours walking around. That's a great tourist trap, with lots of things to see -- but in particular, souvenirs cost about half as what you'd pay in central Moscow, for the same exact chochkas.
My personal suggestion...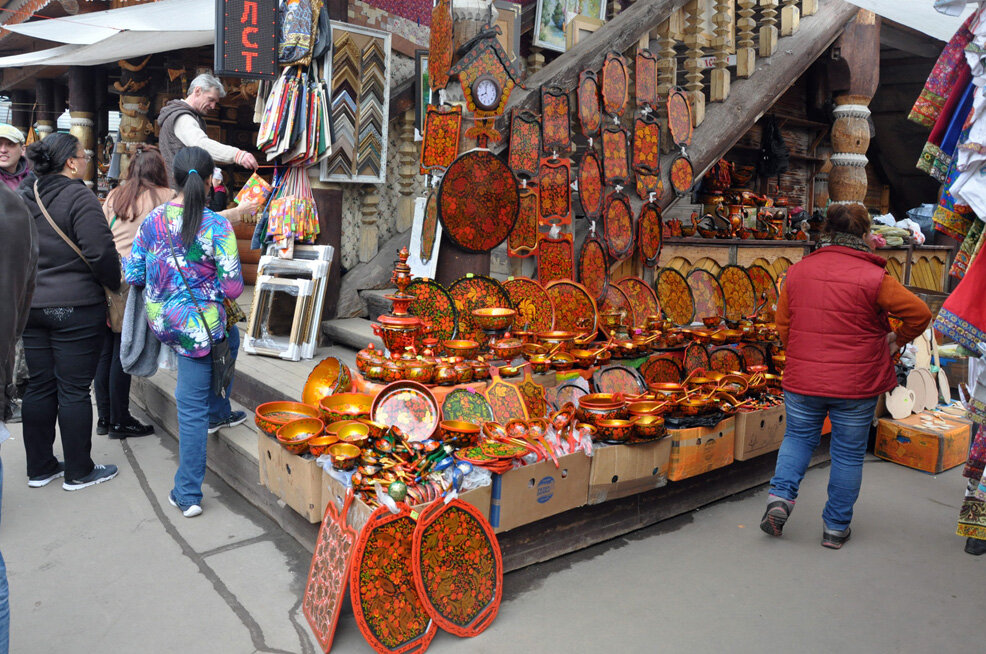 Buy your nested Russian dolls, khokhloma trays and spoons, porcelain, etc. from a street vendor, not from a store. The store will gouge you. Caveat emptor.
Wrapping up
There are a million things that you can do within walking distance of Red Square/Tverskaya/Bolshoi Teatr. I listed only very, very few that ought to keep you engaged for at least two days, without ever having to hop on any transportation. Moscow is so rich that you can find all kinds of things to do and this just scratched the surface, under the assumption that you have limited time and don't want to deal with guided tours or too many complications. Moscow is my second home because if there is one city where you can't be bored, it's Moscow. I didn't touch on the dozens of fantastic parks, or the sightseeing tours, or all kinds of other things to see because that'd take many more web pages to describe.
Always happy to answer questions though -- and offer suggestions if you have something specific in mind.
Let's chat on Telegram! Or ping me on email or Facebook, whatever works. Blue skies!
Written by Eugene Ciurana on Saturday July 3, 2021
Permalink -